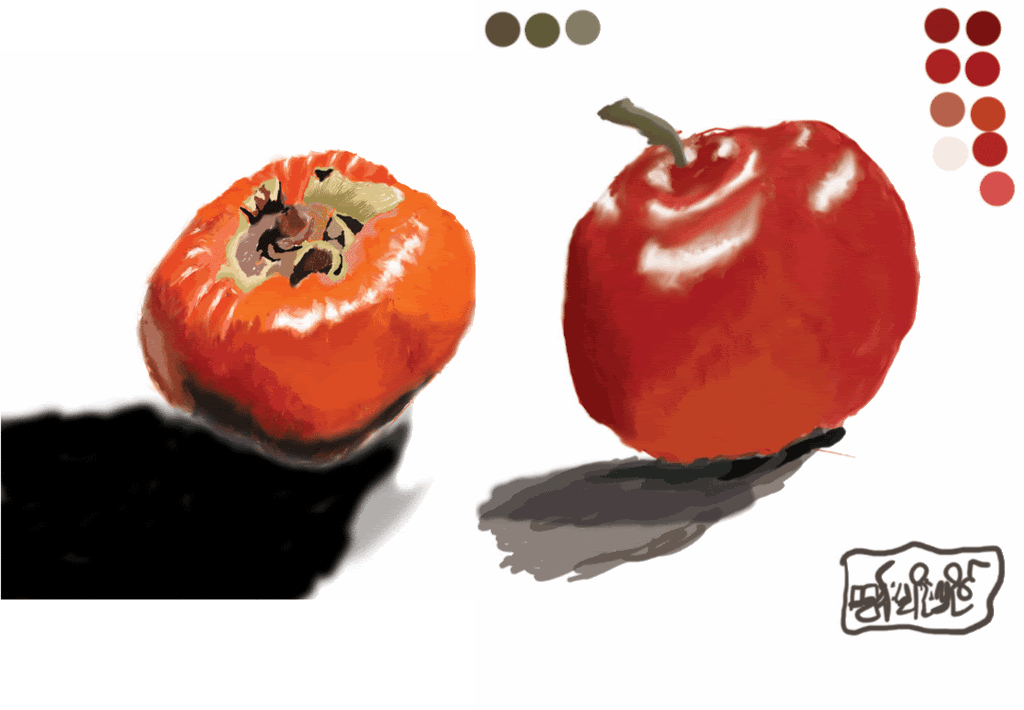 After spending Sunday morning by painting digitally, I ended up with those images. I really love the persimmon fruit next to the apple. I am thinking to put that in my portfolio if I get one or two more really good fruit paintings. So I need to work hard on it. Maybe next one will be banana. Whatever it is, painting is really fun for me now. Regarding with apple, I feel like I lost some details on it as I used smudge tool too much. But it was good because I know how to use smudge tool so when I painted persimmon, I had control over of smudge tool.
One thing I surely understand today is that taking time when drawing and painting is key to success. Before, I could not bare myself spending time a lots on one drawing or painting, but now I know how to feel it. When I was painting persimmon fruit, I went over details again and again till it looks perfect. Although it still needs to develop, I stop it right there. I might come back to it later when I have idea on it.
Actually, I got feedback from a member from Concept Art Forum that I'd better use soft edges brush for the one on the right and go painting again for the one on the left because it looked like unfinished (referring to the images of the previous topic). I'm glad that I got a invaluable feedback that improves my skill at painting. Without a comment, I cannot paint like the images above now.